Blog
Best accessories for mobile vlogging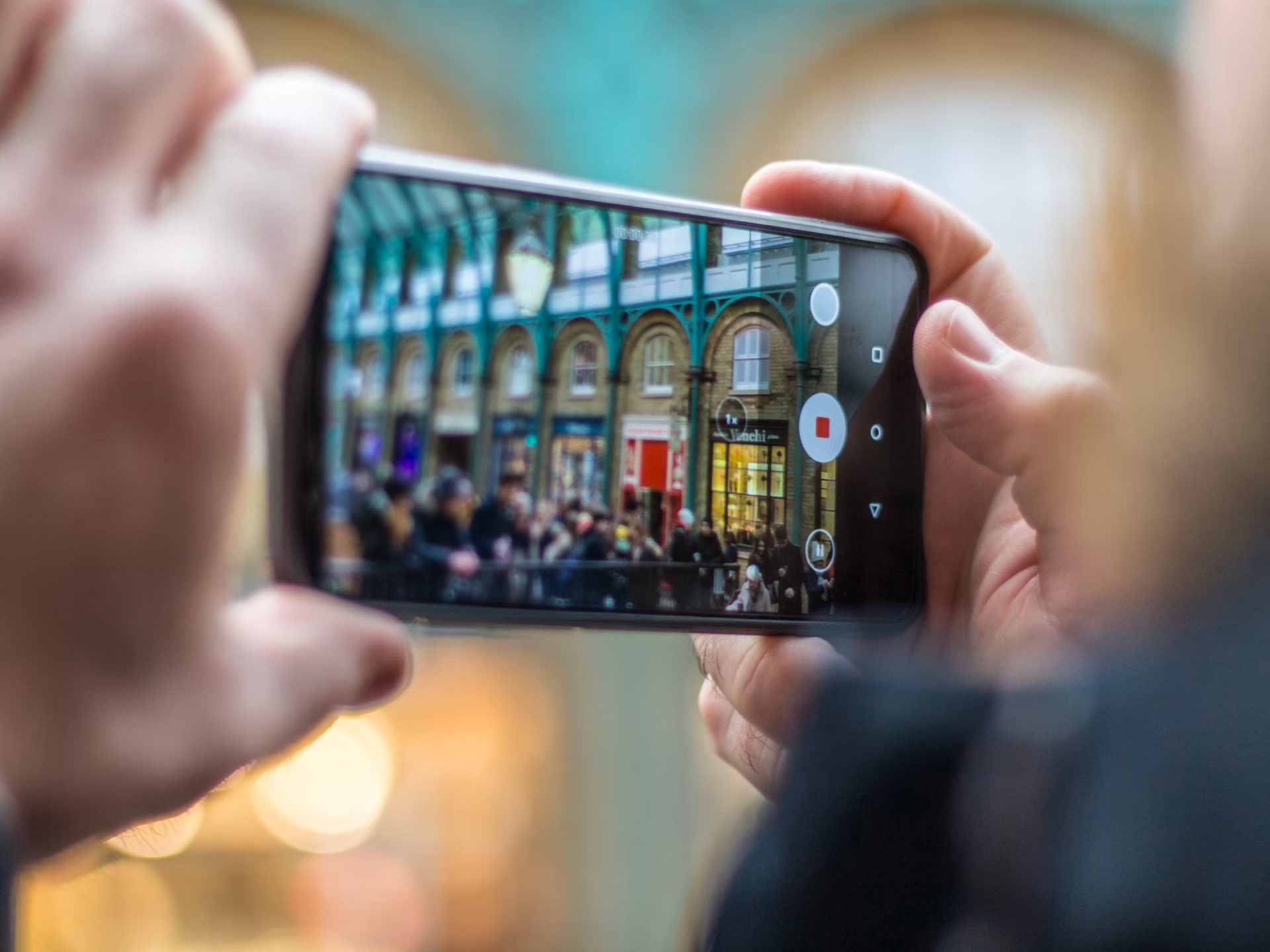 We collected some of the best accessories for mobile vlogging and included the best power banks, tripods, gimbal mounts, lights, microphones, and more.
UPDATE: 08/21/2023 10:30 EST BY ROLAND UDVARLAKI
We regularly update buying guides to stay up-to-date and relevant with the latest information and pricing. We added new products to our guide, including the Insta360 Flow, a new battery pack from CASETiFY, and more.
Vlogging and content creation have never been more accessible than it is today. A modern smartphone has the capability of a mini supercomputer and is also equipped with an excellent camera capable of capturing high-resolution photos and videos. They're excellent for content creation and often used by professionals and influencers, especially when they require something small and compact.
While capturing content will always be preferred from dedicated camera equipment with large sensors, smartphone cameras have already proven they're up for any task. In this list, we collected some of the best mobile vlogging accessories, including the best power banks, tripods, stabilizers with gimbal mounts, lights, microphones, and all-in-one kits.
Power banks
Power banks are a must-have accessory  You don't want to come across a "low battery" notification, only to find that you're about to witness the best sunset you've ever seen  If you're taking time-lapses, and lots of daily footage, that could take a toll on your battery, and we recommend picking up a power bank to keep your primary tool charged up.
Anker 633 MagGo

Great for Streaming

$70 $80 Save $10

Anker 633 MagGo is a unique power bank for the iPhone 14 series that will help you prop up your device and use it. It has a 10,000 mAh cell inside and will charge your iPhone up to 7.5W.

Anker PowerCore III 10K Power Bank

Portable & Versatile

Anker PowerCore III features a 10000mAh cell and can deliver 18 watts of power over wired connections and 10 watts when using wireless charging. It ships with a USB C to USB C cable in the box, making it an accessory ready for use with most new gadgets.

Anker PowerCore III Elite

Quick Recharge

This power bank from Amazon is an excellent accessory for a quick recharge. Its narrow design can help it fit in tight spaces, which can be difficult for more comprehensive options.

Belkin USB-C 20,000 mAh Power Bank

Large battery

$34 $40 Save $6

The Belkin USB-C portable charger has a hefty 20,000 mAh battery capacity and supports up to 15W of power output. It can charge up to three devices at a time and has a USB-C and two USB-A ports to make the process more convenient.

Spigen ArcHybrid Mag Battery Pack

Portable Battery

This power bank features a big 5,000mAh capable of charging your iPhone 14 Pro to 100 per cent at least once. Moreover, it features pass-through charging so that you can simultaneously charge your iPhone and the Power Bank.

ESR HaloLock MagSafe Battery Pack 5,000 mAh

Compact Battery

$26 $35 Save $9

If you're looking for an affordable MagSafe power bank for your iPhone, look no further than ESR's HaloLock MagSafe Battery Pack. It features a 5,000 mAh cell that is three times bigger than Apple's official MagSafe battery pack. Its magnetic solid hold can hold up to 1000 grams of force.

Apple MagSafe Battery Pack

MagSafe Battery Pack

$84 $99 Save $15

Apple's MagSafe Battery Pack is perfect for a quick recharge, giving you a few extra hours with your iPhone in a moment of need. It attaches seamlessly and functions similarly due to MagSafe and its no-button approach. When disconnected from a power source, it charges your iPhone at 7.5W, but when connecting it to a 20W adapter, the speed increases to 15W.

Anker 313 Power Bank

Essential

The Anker 313 power bank is slim and portable. It has a built-in 10,000 mAh battery capacity and can recharge compatible devices up to three times, depending on their battery size. It has USB-A, micro USB, and USB Type-C ports.

Samsung 10,000 mAh power bank

Great for Samsung Users

$62 $80 Save $18

The Samsung 10,000 mAh power bank provides up to 25W of wired power for your compatible Samsung smartphones, and it enables 7.5W charging wirelessly. It can quickly provide up to two or three chargers for mobile devices, and it's compact with a large battery.

Mophie Powerstation XXL Power Bank

Powerstation

The Mophie Powerstation XXL has a 20,000 mAh battery cell inside, enabling you to fast charge multiple devices – even simultaneously. It has two USB-A ports and a USB-C port with power delivery, enabling up to 18W fast wired charging. It's excellent for on-the-go when you need the power the most.

CASETiFY PowerThru Power Bank

Premium Pick

CASETiFY PowerThru Power Bank is one of iPhones' best MagSafe-compatible wireless power banks. It also features a 5,000 mAh battery and pass-through charging support. It's slim enough to fit in a pocket and keeps your iPhone charged up all through the day.

Anker 523 PowerCore Slim 10K PD

20W Charging

The Anker 523 PowerCore Slim 10K PD is a 20W USB-C portable power bank with a 10000mAh capacity. In addition to a 20W USB-C port, it also has a 12W USB port to charge a second device. The MultiProtect safety feature ensures worry-free charging with a fire-resistant casing and temperature control.
Tripods and Gimbals
Holding onto a mini tripod provides more comfort and makes handling easier. New gimbals also provide additional stabilization and other neat features that could improve your videography skills and enhance your footage. These aren't necessary, but they can significantly improve the quality of your videos.
Manfrotto PIXI Mini Tripod

Best Value

The Manfrotto PIXI Mini tripod weighs just 190 grams, and it's one of the best-rated mobile and compact camera tripods. It has a comfortable handgrip and can be locked with a button.

Manfrotto Stand with phone mount

Portable & Lightweight

The Manfrotto stand with phone mount comes with a universal smartphone clamp. The stand also supports traditional cameras and has a standard 1/4″ thread. Additionally, the stand can rotate in a 360-degree direction and can hold a phone in portrait and landscape modes.

Rode Tripod Mini Stand

Easy to carry

The Rode tripod mini stand has a 1/4″ to 3/8″ adapter and a 1/4″ thread count. It can be adjusted vertically, and it rotates 360 degrees. It's excellent for mounting DSLR cameras and your smartphone, but remember it'll require a smartphone mount.

Rode Tripod 2

Portable & Lightweight

The Rode Tripod 2 has a maximum height of 130 cm and weighs just 200 grams. It has a 1/4″ thread with a 3/8″ thread adapter and fits any smartphone or DSLR camera. The legs can easily be adjusted, and the smooth ball-head joint allows vertical and horizontal positioning.

Insta360 Flow

Editor's Choice

The Insta360 Flow phone stabilizer is an excellent device. It has 3-axis stabilization, a built-in selfie stick and tripod, and many free features that can help you take your content and presentation to new heights. It has a great mobile app and is lightweight enough to be carried around and used for hours at a time.

Manfrotto Smartphone Clamp

Essential for mobile vloggers

The Manfrotto smartphone clamp is precisely that. It holds all smartphones in place and has a double lock mechanism to keep devices safe and secure. It also supports both landscape and portrait modes and doesn't add much weight to the overall setup.

DJI OM 4 SE

Affordable Stabilizer

The DJI OM 4 and OM 4 SE are priced similarly on Amazon. They're some of the best professional video stabilizers on the market, supporting three-axis stabilization with a magnetic phone clam and ring holder. It's excellent for bloggers, and there are lots of features built in that enable follow-tracking, fine-tuning, and more.

DJI OM 5

Excellent Value

The DJI OM 5 gimbal has more features than the OM 4 SE and OM 4. Like its predecessors, it features a lightweight design, enabling portrait and vertical shots. It's smooth, has three-axis stabilization, object tracking, fine-tuning, and many built-in extensions and features to let you up your vlogging game.

DJI Osmo Mobile 6

Even more features than OM 4 & 5

If you have the budget, the Osmo Mobile 6 could be what you want. It has excellent tracking, an easy quick-mount mechanism, and even more features to enhance your recordings. It features a built-in status panel, side wheel, and axis lock features, weighing just 309 grams.

Zhiyun Smooth 5

Great Alternative

The Zhiyun Gimbal 5 might not come cheap, but it includes all the necessary accessories. It has three-axis stabilization, a built-in light, a control panel with a control wheel, and smooth controls. It can last up to 25 hours on a single charge and is an excellent alternative.

Insta360 Go 3

Portable & Lightweight

The Insta360 Go 3 is similar to a GoPro, except it's much smaller and weighs just 35 grams. It can easily attach to clothes, offering a unique first-person (POV) perspective, making vlogs more personal and unique.

GoPro HERO11 Black

Please attach it to anything.

The GoPro HERO 11 Black is an excellent, high-resolution, versatile action camera. It's the industry standard for professionals and amateurs since it can be propped up on any surface and clothing. It records up to 5.3K and has HyperSmooth Stabilization, many built-in features, and even a large display on the back to preview footage.
Lights & Microphones
Lights can improve the quality of your self-recorded videos. It enables you to highlight yourself or other subjects and objects, greatly enhancing the quality of content. The other essential tool is a microphone since smartphone microphones often can't cancel out wind and other loud noises, while dedicated microphones might be able to cope better.
RØDE VideoMicro

Best Value

The Rode VideoMicro microphone features a 3.5mm jack that can connect to smartphones, tablets, and other compatible devices. It's one of the best shock-mount microphones, and it can significantly improve the audio quality of your vlogs.

Movo VXR10 Microphone

Great sound for less

The Movo microphone can connect to smartphones, tablets, and other electronic devices via the 3.5mm headphone jack, providing excellent sound quality. The kit includes a dead cat, a carrying case, and a 3.5mm cable.

Movo VXR10-PRO Microphone

All-in-one microphone kit

Similar to the standard VXR10 by Movo, the Pro version includes even more accessories at a slightly higher price. It can significantly improve the audio of your footage, and the kit comes with a microphone, a shock mount, a foam windscreen, a dead cat, a carrying case, and two cables.

DJI Mic

Wireless Audio

If you want to take content creation to the next level, the DJI Mic offers a great hand-free experience without requiring cables. It has a 250m range and up to 15 hours of battery life. It works with all devices, and while the price might be steep, it makes recording audio far more convenient and easy when you have to move around.

PICTRON VL28 LED

Balanced Light

The Pictron VL28 light has four brightness levels, providing 120 lumens at 0.5m, making it an excellent choice for bloggers. It can easily attach to smartphones and tripods. It's ideal for beginners and those who don't require a lot of light. It can also last for three hours on a single charge.

NEEWER Magnetic Light Wand

Light Wand

The Neewer Magnetic handheld light wand is a portable RGB light. It's affordable, colourful, and highly bright. It's perfect for those shooting inside or outside, and it can even charge your smartphone and attach other equipment on top.

Auxiwa Clip on Selfie Ring Light

Compact Light

This ring light is excellent for lighting up yourself from a close distance and is perfect for vlogging on the go. It can easily attach to smartphones. It requires rechargeable batteries, and it's lightweight and easy to use.

Kimwood selfie ring light

Portable Light

This selfie ring light is perfect for on-the-go content creation and can easily attach to smartphones. It has three dimmable light modes, including cold, natural, and warm, and five levels of brightness controls.
All-in-one kits
You're in luck if you're after an all-in-one kit that includes microphones, a tripod, and a light  Here are the best kits that we found  These kits are great if you want to save time researching, and go with something simple, that's already been proven to work well for thousands of people.
Rode VideoMic Vlogger Kit for USB-C Devices

Great for Android users

The Rode VideoMic blogger kit is excellent if you're looking for the fundamentals. The kit includes a MicroLED camera, a rode VideoMic microphone, and a tripod with a phone mount. It's a great piece to kickstart your new hobby or career and excellent for USB-C-compatible devices.

Rode VideoMic Vlogger Kit for iOS Devices

Great for Apple users

Similar to the USB-C version, this Rode kit includes all essentials  It comes with the MicroLED light, a smartphone mount, and a Rode VideoMic microphone that can plug into the lightning port  It's a great piece of kit to get started.

Movo logger Kit

Best Value

This kit is excellent for new bloggers who are just starting. It comes with a shotgun microphone, LED lights, a phone clamp, a ball head mount, a tripod, and all the necessary cables to get you up and running quickly.
Best phones for vlogging
Whether you pick up a DSLR camera or use a phone for vlogging, there are multiple great options. iPhones have been known as some of the best camera smartphones for recording videos, but many Android phones do an excellent job. If you're looking to upgrade, you may also want to consider a phone that can do everything, saving you money on camera equipment, as these are all capable of taking superb content, whether you're out in the sun at the beach or in the city at night.
Apple iPhone 14

iPhone 14 joins the market as the smartphone to pick if you want a high-tier performance, great cameras, and battery life that will easily last you through a day of use.

Apple iPhone 14 Plus

iPhone 14 Plus enters as the device to pick over the iPhone 14 if you want the same high-tier performance and great cameras, with the added advantage of a screen that will help you see more at once and longer battery life.

iPhone 14 Pro

iPhone 14 Pro is the latest premium smartphone from the brand  It features a new pill-shaped 'Dynamic Island' notch, 48MP primary camera sensors, an A16 Bionic chipset, and much more.

iPhone 14 Pro Max

iPhone 14 Pro is the latest large-screen premium smartphone from the brand. It features a new pill-shaped 'Dynamic Island' notch, 48MP primary camera sensors, an A16 Bionic chipset, and more.

Apple iPhone 13

The iPhone 13 is the default smartphone from Apple for 2021. If you're looking for an experience that remains fast and fluid over years to come and is not lacking on any hardware front, this is the device to get.

Samsung Galaxy S23

The Samsung Galaxy S23 enters the market as a leading option for those who want a compact flagship. It ships with the powerful yet efficient Snapdragon 8 Gen 2 and has a triple camera array that's proven reliable in any scenario.

Samsung Galaxy S23+

$850 $1000 Save $150

The Samsung Galaxy S23+ is ideal for top-tier specifications, features, and affordability. It ships with a big 6.6-inch AMOLED display, a Snapdragon 8 Gen 2 chipset, and a triple camera array proven reliable in any scenario.

Samsung Galaxy S23 Ultra

$1049 $1200 Save $151

The new Galaxy S23 Ultra is the go-to flagship from Samsung in 2023  It's powered by the new Snapdragon 8 Gen 2 chipset, carries the same price tag as its predecessor, and has improved gaming and camera capabilities to let you capture the perfect moment.

Google Pixel 7

$499 $600 Save $101

The new Google Pixel 7 is powered by the all-new Google Tensor G2 chipset  The device is coupled with 8GB of memory, and it has 128/256GB storage tiers  The phone comes with a significantly improved camera system, and it's more portable than the last generation  The Pixel 7 is available in Obsidian, Lemongrass, and Snow colors.

Google Pixel 7 Pro

$699 $899 Save $200

The Google Pixel 7 Pro, powered by the new Google Pixel Tensor sensor, provides great graphics performance and computing power to let you easily play all of your favourite games and multitask. The device also has a competent camera setup backed by a unique post-processing algorithm that helps achieve great results.

Google Pixel 7a

$444 $499 Save $55

The Pixel 7a is the new affordable smartphone from Google, featuring much-awaited features such as a 90Hz responsive display, a more powerful camera setup, and support for wireless charging. The Tensor G2 chipset powers the Pixel 7a, and it's the best device in the A series yet.

Google Pixel 6a

$299 $349 Save $50

If you don't care about high refresh rate, wireless charging, a glass back, and a few other tidbits, this should be your phone  It's a Pixel that features the same chipset as last year's Pixel 6 series but is less expensive.