Blog
Best accessories for gaming on your smartphone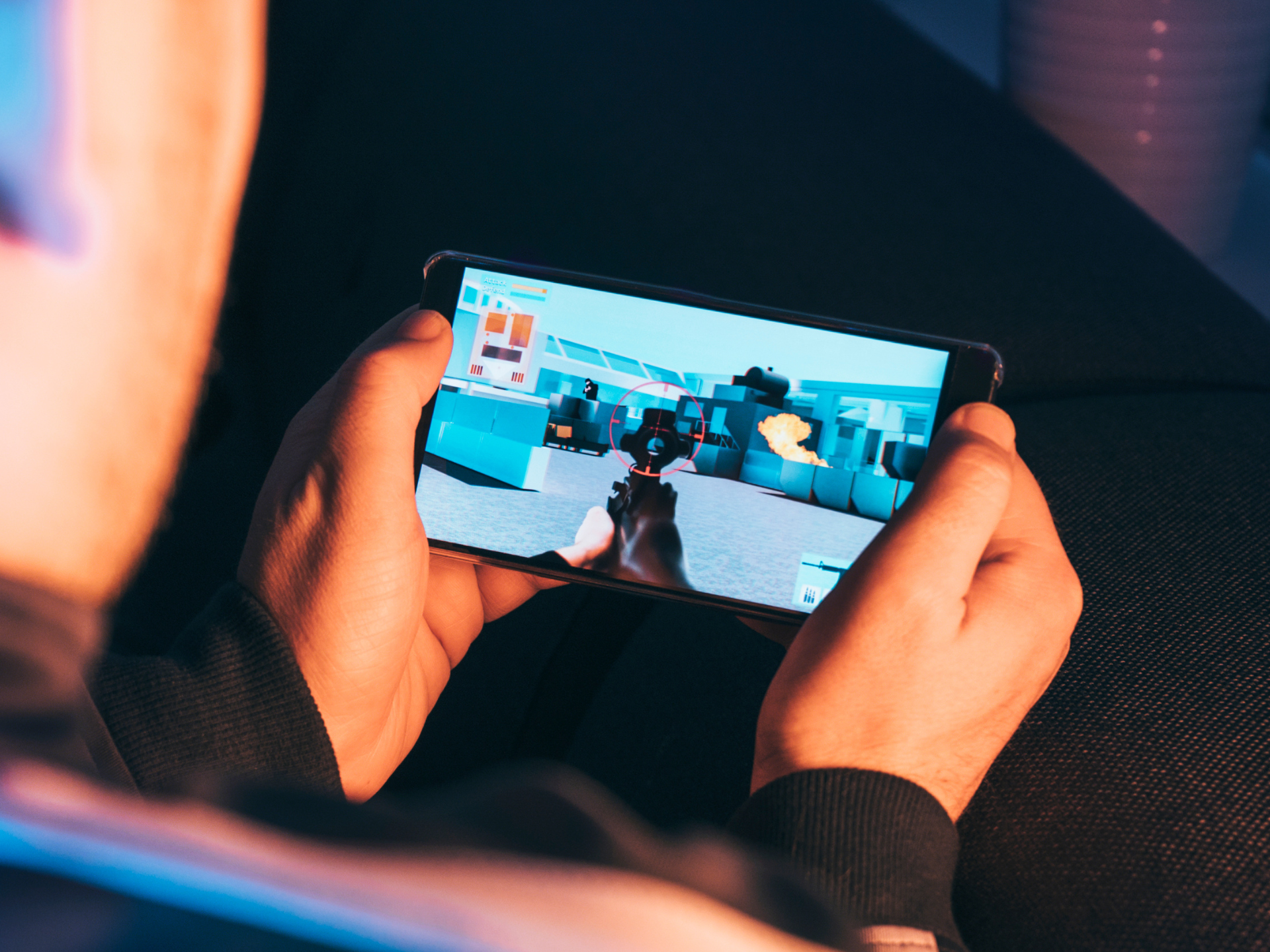 Level up your mobile gaming experience with these fantastic smartphone accessories!
Gaming on mobile devices has come a long way, and you can now play games such as action, FPS, simulation, shooting, RPG, and even RTS games. You can emulate older and classic games or play a competitive game such as Fortnite, Diablo, Call of Duty Mobile, and many more. These are often best on dedicated gaming smartphones. However, most of the best phones can play demanding games without a problem, albeit with less gaming-oriented features and optimizations.
If you have a midrange or a high-end smartphone, you might want to up your game by purchasing dedicated accessories to give you a slight advantage or to keep you entertained for longer. We've collected some of our favourite and most useful accessories that we could find, from chargers, portable power banks, gaming controllers, finger sleeves, and even coolers.
Best Portable Chargers
Power banks and chargers are essential for keeping the lights on. Smartphone games are demanding, so they'll consume more power and drain your battery quickly. If you're planning a long gaming session out in the wild or might be away from the plug for too long, consider one of these portable power banks or compact chargers.
Anker PowerCore 10000

Editor's Choice

$17 $20 Save $3

The Anker PowerCore 10,000 mAh battery is portable and ultra-compact, providing multiple charges for your smartphone and other gadgets. It comes in several colour options and supports Anker's PowerIQ charging technology for fast and reliable speeds.

Anker 523 PowerCore Slim 10K PD

Large battery

The Anker 523 PowerCore Slim 10K PD is a 20W USB-C portable power bank with 10000mAh capacity. In addition to a 20W USB-C port, it also has a 12W USB port to charge a second device. The MultiProtect safety feature ensures worry-free charging with a fire-resistant casing and temperature control.

UGREEN 30W USB-C Charger

Best Value

The UGREEN 30W USB-C Charger is a compact, powerful charger supporting Samsung's 25W Fast Charging standard. It features an upgraded GaN II chip, foldable plug design, and Thermal Guard technology for real-time protection. It can charge earbuds, phones, and even tablets with multiple fast charging protocols. It has numerous safety systems for all-around security.

Anker Nano II 30W Charger

Portable Charger

$24 $34 Save $10

The Anker 30W GaN II charger has a single USB-C port and a compact and small form factor. It can charge supported devices at up to 30W and easily fits in any backpack.

Apple MagSafe Battery Pack

Portable & Supports MagSafe

$90 $99 Save $9

Apple's MagSafe Battery Pack is perfect for a quick recharge, giving you a few extra hours with your iPhone in a moment of need. It attaches seamlessly and functions similarly due to MagSafe and its no-button approach. When disconnected from a power source, it charges your iPhone at 7.5W, but connecting it to a 20W adapter, the speed increases to 15W.

CASETiFY PowerThru Power Bank

Premium Pick

CASETiFY PowerThru Power Bank is one of iPhones' best MagSafe-compatible wireless power banks. It also features a 5,000 mAh battery and pass-through charging support. It's slim enough to fit in a pocket and keep your iPhone charged up throughout the day.

Samsung 10,000 mAh power bank

Wired & Wireless

$63 $80 Save $17

The Samsung 10,000 mAh power bank provides up to 25W of wired power for your compatible Samsung smartphones, and it enables 7.5W charging wirelessly. It can quickly provide up to two or three chargers for mobile devices, and it's compact with a large battery.

Belkin USB-C 20,000 mAh Power Bank

Large battery

$34 $40 Save $6

The Belkin USB-C portable charger has a hefty 20,000 mAh battery capacity and supports up to 15W of power output. It can charge up to three devices at a time and has a USB-C and two USB-A ports to make the process more convenient.
Best Gaming Controllers
Gaming controllers provide a more versatile and physical game experience with analog sticks and buttons. They'repracticale, sensitive, and provide a comfortable experience with more immersive feedback. It's ideal if you want to play FPS, racing, or simulation games.
Backbone One

Android & iPhone

The BACKBONE One mobile gaming controller works with iPhone and Android devices and supports most games. It has analog triggers, tactile buttons, and clickable thumbsticks to elevate your gaming experience. The controller is available in two colours, black and white.

Razer Kishi V2

Editor's Choice

The Razer Kishi V2 Mobile Gaming Controller is portable and has console-quality controls. It has microswitch buttons, analog triggers, and programmable macros to bring console-quality gaming to your smartphone.

Razer Kishi Mobile Game Controller

Editor's Choice

Take your gaming to the next level with the Razer Kishi Mobile Game Controller, which will give you an improved mobile gaming experience on Android and iOS devices.

Razer Raiju Mobile

Portable

The Razer Raiju Mobile gaming controller features an ergonomic design, an adjustable phone mount, and soft-touch buttons with tactile feedback for the most precision. It has a mobile app to configure your experience, and it has hair trigger mode for a more competitive advantage.
Best Accessories
Here, we included some of our favourite gadgets and accessories, such as wireless earbuds, finger sleeves, and RGB coolers, to keep your phone, fingers, and ears safe and sound.
Nuozme 6-pack finger sleeves

Increase sensitivity

It's made of a flexible, breathable, and lightweight nanofiber material. It's smooth and helps prevent humidity, sweat, and smudges while playing games. It's susceptible, and the tips cover the fingertips and sides to increase sensitivity and make the gaming experience more comfortable for longer sessions.

Black Shark Fun Cooler

Cool & Effective

The Black Shark Fun Cooler has seven blades, and it improves the efficiency and cools down the device to prevent throttling and a downgraded experience. It supports Android and iOS, is portable and can be powered and charged with a USB-C cable.

Razer Phone Cooler Chroma

RGB Fan

The Razer Phone Cooler is compatible with Android and iPhone smartphones and has 12 RGB LEDs. It has seven blades to ensure maximum airflow with minimal noise and supports more than 16 million colours. It's MagSafe compatible, and a USB-C cable can charge it.

SanDisk MicroSD

Extra Storage

You might want to up your storage if you have a smartphone or tablet with a microSD card slot. Games like Genshin Impact, Asphalt, and COD: Mobile can take up lots of storage, so you could quickly run out of storage just by installing some of your favourite titles.

Apple AirPods Pro (2nd Generation)

Class-leading ANC

The second-generation AirPods Pro is one of the best wireless earbuds on the market, and it works with all smartphones – although some features and customization options are limited to Apple devices. It has class-leading ANC and Ambient mode, low latency, and an immersive sound experience.

Samsung Galaxy Buds 2 Pro

Low-latency

$116 $230 Save $114

Samsung's new Galaxy Buds 2 Pro features outstanding Intelligent Active Noise Cancelation to quiet even the loudest sounds around you, delivering an incredible studio quality experience, an IPX7 rating, and other great features.

Google Pixel Buds Pro

Immersive Sound

The Google Pixel Buds Pro is the flagship wireless earbuds from the software giant. It packs Volume EQ, Active Noise Cancellation, Transparency mode, wireless charging, and all the Google Assistant features you need.

Nothing Ear 2

Transparent Design

Nothing Ear (2) are the new true wireless earbuds from the London-based brand. The new earbuds include features such as Hi-Res Audio, LHDC 5.0 technology, Personal Sound Profile, Dual Connection, Clear Voice Technology, and more. There is support for Active Noise Cancelation, and the earbuds also have an IP54 rating.
Should you buy a gaming accessory?
The short answer is: No, you don't have to, but it helps you enhance your gaming experience on a mobile device.
These are just some of the best essential gaming accessories for mobile gamers to help elevate your experience. Whether you want to gain an advantage over your opponents or want to keep your device cool, we have plenty of options to choose from, and these controllers, coolers, earbuds, and chargers will ensure you can play for as long and as comfortably as possible. The above products are also excellent presents for your friends and loved ones, and while some can go for over $100, an SD card or a finger sleeve are some of the most affordable options to help fellow gamers to enhance their gameplay.